Highlights of each monitor
Best home office monitor to buy! Faced with the current global scenario, many are forced to work from their own homes, but not everyone has the best equipment for this. If you are looking for the best monitor for home office that fits your budget, we will list in this guide the best options available in the national market and the highlights of each model to know which one is best to buy.
Remember that the models listed here consider productivity or color fidelity for professionals who work with image or video editing. If you're also looking for a monitor that's good for gaming, it's best to check out our other guide, which lists the best with a refresh rate above 60 Hz.

And as always, it's good to remember that the monitors are organised by price, but at the beginning there is a list sorted from best to worst. This makes it easy to make the choice.
The Best home office monitor to buy: Samsung LC24F390
Have you been flirting with curved monitors? Samsung's LC24F390 is one of the most affordable in Brazil and delivers a good set for the price. It has an all-plastic body and its edges aren't as thin as others in our guide, but in this price range it's pretty much what you'll find on the market.
The model has a 24-inch LED screen and has HDMI and VGA inputs for those who want to connect it to new and older computers. It is not a monitor aimed at those looking for good multimedia or playing games on it, as the model does not have built-in speakers and its response time is high.
This Samsung monitor is best suited for office use or just for browsing and those who are tired of the standard design of flat monitors.
Best home office monitor to buy: LG 25UM58
We started our guide with a great ultrawide monitor option. If you want to increase your productivity at work or even help with your studies, the 25UM58 allows you to open several programs side by side without having one window on top of the other. Its panel is IPS LCD with a 178-degree viewing angle, which allows multiple people to view content easily.
It has a reading mode that reduces the emission of blue light. This contributes to less eye strain. If you spend hours in front of your PC studying or reading, this feature will make a lot of difference. There's also the Flicker Safe feature that reduces glare flickering, which will also help reduce fatigue.
There is the 4-Screen Split feature to see four apps at the same time. It is also possible to connect two computers to this monitor and share the screen with another person. It works with both Windows and Mac, which is a rare thing to find.
The Best home office monitor to buy: LG 29WK600W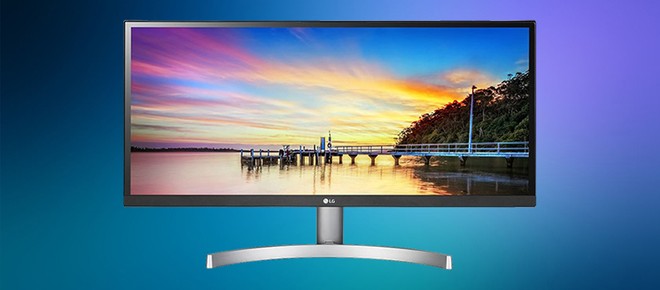 Need an even bigger screen than the 27-inch Dell or even more color accuracy? LG's WK600W is 29 inches and covers 99% of the sRGB color standard and even supports HDR10.
It is also a 60 Hz monitor with an IPS panel and a good level of contrast. What changes is that its screen is ultrawide, like the most basic LG in our guide. So you can work on several programs at the same time.
It has built-in speakers with 5W of power on each channel and Max Audio technology. The design attracts attention with its curved support with a metallic finish. And it might even attract more interest than the more serious office-looking Dell above.
The Best home office monitor to buy: the Samsung LU32J590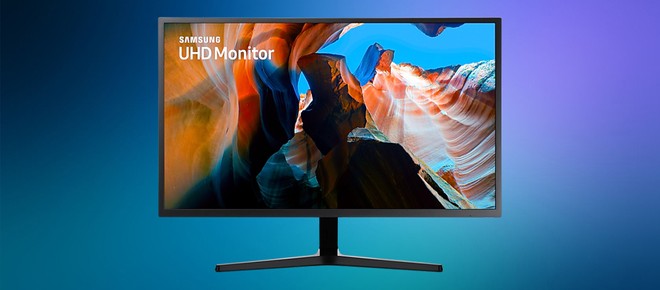 Need more space to work, but don't want to invest expensively in a 4K monitor? Samsung has the LU32J590 model, which is simpler compared to others on our list, but here you'll have plenty of room to have more than one program open at once, on the 31.5-inch screen.
This model can also be a good choice for those who play. It is FreeSync compatible and has Game Mode and Low Input Lag Mode options to reduce latency when playing games, but it's not quite a gamer's monitor because it only has a 60 Hz panel.
For those who work with image and video editing, you will appreciate the panel of this monitor for being able to reproduce a billion colors. It also has a Picture-by-Picture (PBP) feature that allows you to connect two devices to the monitor and keep their original qualities.
The Best home office monitor to buy: the Dell UP2720Q.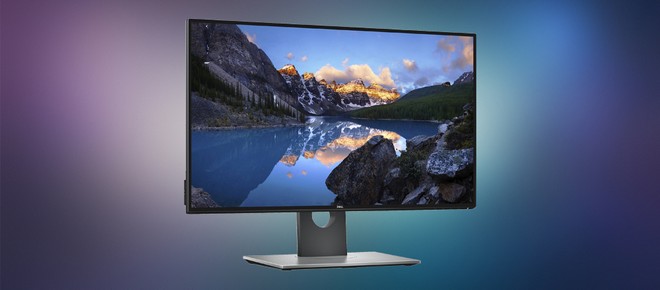 With the UP2720Q, we have a monitor for anyone who wants to immerse themselves in the 4K world. Here you have 3840×2160 pixels on a 27-inch panel, which results in high ppi for a very sharp image. Its design is reminiscent of the others from Dell we mentioned, but with an even better build quality.
The contrast is superior to the others mentioned, but the brightness doesn't quite surpass the Dell U2518D, especially with HDR content. However, the viewing angle of this one is higher, with less color loss when looking from the side. The uniformity of panel lighting is also superior.
The color reproduction is one of the best, and it's also a great option for photo and video editing. And because it's 4K, you'll be able to see every detail of the videos you capture at this resolution. The response time is excellent and the input lag is lower than all the others we mentioned, making it a good option for games.
The Best home office monitor to buy: Samsung Smart Monitor M5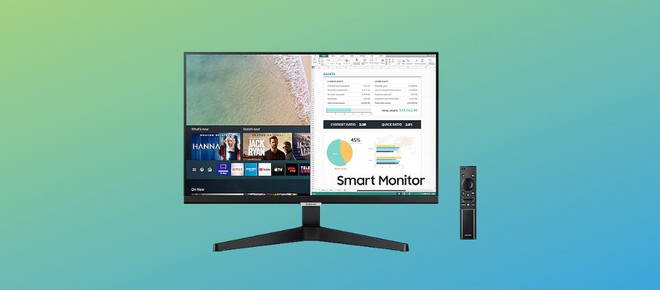 To close, we have the Samsung Smart Monitor M5, a monitor that was presented in Brazil by the brand betting on bringing the embedded Tizen system as a differential, thus favouring the consumption of multimedia in the same way as a TV, which includes apps for Netflix, Amazon Prime Video and YouTube.
Not least, the monitor supports wireless connection to DeX (if you have a compatible Galaxy) and AirPlay 2, which enables you to easily connect to a pre-configured remote PC with Office 365 pre-installed.
Speaking of the screen itself, the Samsung Smart Monitor M5 offers a 24″ Full HD screen with a 16×9 aspect ratio, support for 5GHz Wi-Fi networks, Bluetooth 4.2, and, of course, HDMI input for use connected to PCs, notebooks, and most.