Splatoon 3 Nintendo releases many details of the game in a new Direct: Nintendo still has big releases planned for this year, and Splatoon 3 is certainly one of the most anticipated. On Wednesday morning (10), the Japanese giant held a new direct event focused on the game and revealed several details about it.
During the most recent presentation of Splatoon 3, we discovered that the game has everything to break out in professional competitions and displace the position that belonged to Super Smash Bros. The 30-minute presentation highlighted the main points of the game, including the new weapons, new stages, and even a roadmap with some of the post-launch content.
As Nintendo previously revealed, Splatoon 3 is set in Splitsville, a sprawling city located in the arid desert of the Splatlands. That's where the inklings and octolings will face off and scatter ink everywhere.
Splatoon 3 will feature some new weapons designed to aid in this long-running color war. Some of the highlights are the bows called stringers, which spray paint in short bursts, and the splatana sword, a windshield wiper disguised as a sword that lets you spray paint in wide arcs.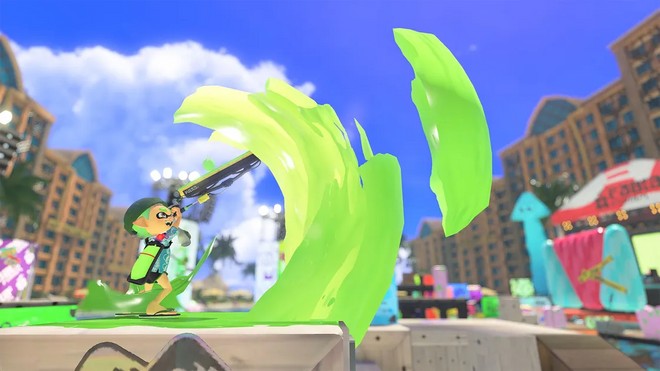 Squid kids will have plenty to do in Splitsville. Returning in Splatoon 3 will be the game modes you loved from past games in the series, like Turf War, Tower Control, Rainmaker, Clam Blitz, and Splat Zone. The Salmon Run, similar to the horde mode, also returns with new Salmonid bosses to beat.
When you're not playing, you can buy all kinds of clothes to customize your character. Some items even come with special features that do things like increase your movement speed. They don't seem to be unlocked through microtransactions, but rather through their evolution in the game, whether it's leveling up or playing a lot with the same weapon.
Splatoon 3 Nintendo releases many details of the game in a new Direct
Splatoon 3 will also allow you to engage in Turf War without spilling a single drop of ink. The new game mode is a deck-building mini-game called Table Turf Battle. In Table Turf Battle, you can collect more than 150 cards that represent the different weapons available in Splatoon 3. You place the cards on the battlefield, trying to dominate the arena as much as possible with your color. Details about Table Turf Battle are still a mystery, but you can challenge the inhabitants of Splitsville to earn rewards.
Splatfest, Splatoon's recurring online multiplayer event, also returns with a new broadcast team called Deep Cut. This time, instead of just having two colored teams to choose from, there will be three, with a Turf War tricolor match to settle the Splatfest results. Ahead of its September 9 release, players will be able to download a demo of Splatoon 3 ahead of a special pre-release Splatfest taking place on August 27.
Nintendo appears to have big plans for Splatoon 3, with free content updates that include new cosmetics every three months for two years and new weapons. The developer has also hinted at major paid DLC expansions, but there is no information about that content yet.
So, what do you think of the news about the game?
See too!